INSTANT SEARCH
Your client can be in hurry or you might be talking on the phone when your client wants to know something about their profile with you or you need to search client with whatever information you have in your hand like name, number, membership ID or so on... Easy gym software enables you to search clients very quickly and easily from the dashboard.
FOLLOW-UP ALERTS
The most tedious work for gym management team is to remember whose membership is going to expire or to whom we have to ask for pending payment dues. Now Easy Gym Software make your tedious job easy ! It gives you alerts for pending payments, new renewals, client birthday and much more...

You can send them SMS on one click and also add feedback for the response of your client for the particular alert on your gym software dashboard.
ENQUIRY MANAGEMENT
Inquiry follow-up plays an important role in sales ratio of your gym membership. Timely follow-up can boost your gym sales undoubtedly. Whether it's an inquiry for the gym membership, group class or personal training, You can generate inquiries in software and get alerted on your dashboard for next followup.

Now you can keep the check that which employee from your sales team needs to follow which inquiry on which date.

Also, when you update old inquiry old responses/updates don't get deleted. You will have complete follow-up history of every inquiry entered into the software.
CLIENT PROFILE
Our software is all in one solution for fitness clubs and studios. Your every client will have the own profile. Where you can find/update following information:
1) Billing history
2) Client Details
3) Referred clients
4) Workout plan
5) Diet plan
6) Body Measurements
7) Attendance
8) Pending payments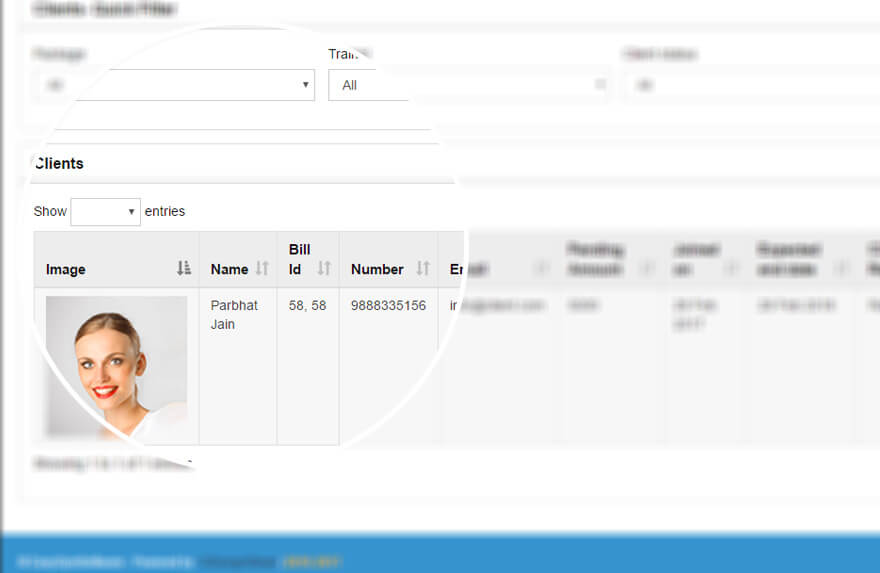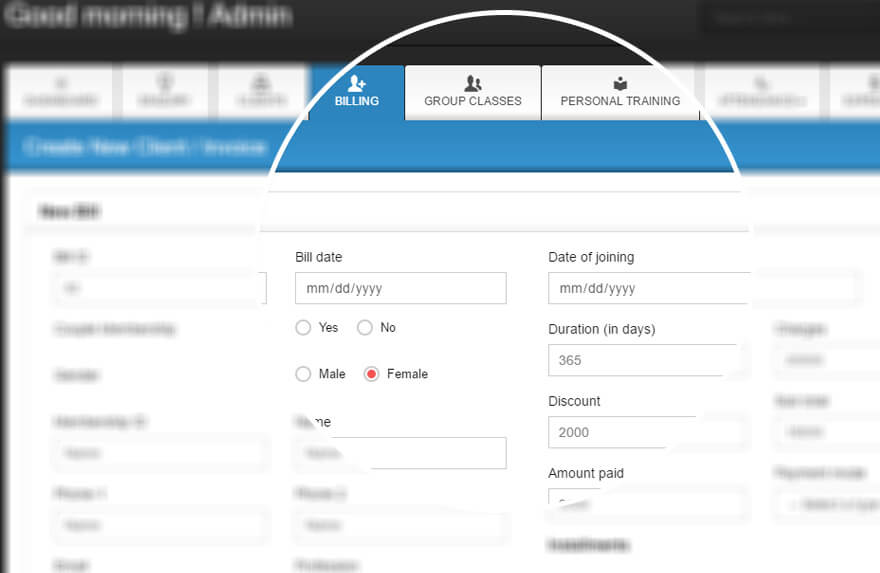 BILLING
Billing is the primary thing in our easy gym software for fitness clubs and studios. You can generate new bills for your clients in just 4-5 seconds. Our billing form has inbuilt camera integration, couple membership, smart installment calculations and automated SMS for thanking your client.

We have separate billing for personal training and group classes.

Our software has print bill option for A4 size printers. Also, PDF version of the bill can also be generated and forwarded to the client via email.
POS - Billing & Inventory Management
Are you selling something in your gym or fitness studio? Easy Gym Software has specialized section in it where you can generate invoice like POS to sell items like proteins, shakes, eatables or some wearable items. Our smart software will manage your inventory automatically. So easy gym software is all in one inventory management and POS (Point of Sale) software also.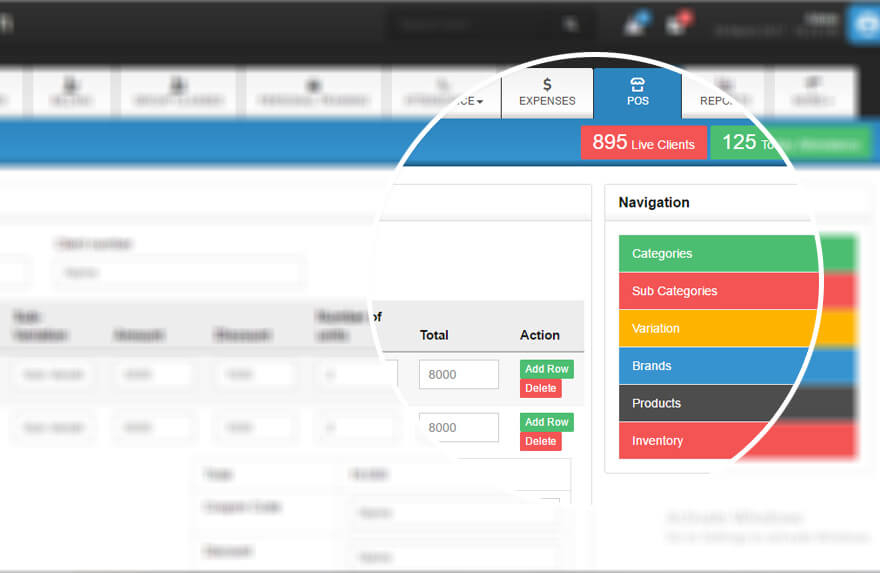 GRAPH REPORTS
we understand the importance of reports in business management and planning. In easy gym software, you get the option to export MS Excel reports for almost everything. But to plan your next marketing plan or your next action just data is not enough so we have developed graphical reports where you can compare values and have results in the graphical form which can help you in your decision making and effective and time-saving report analysis.