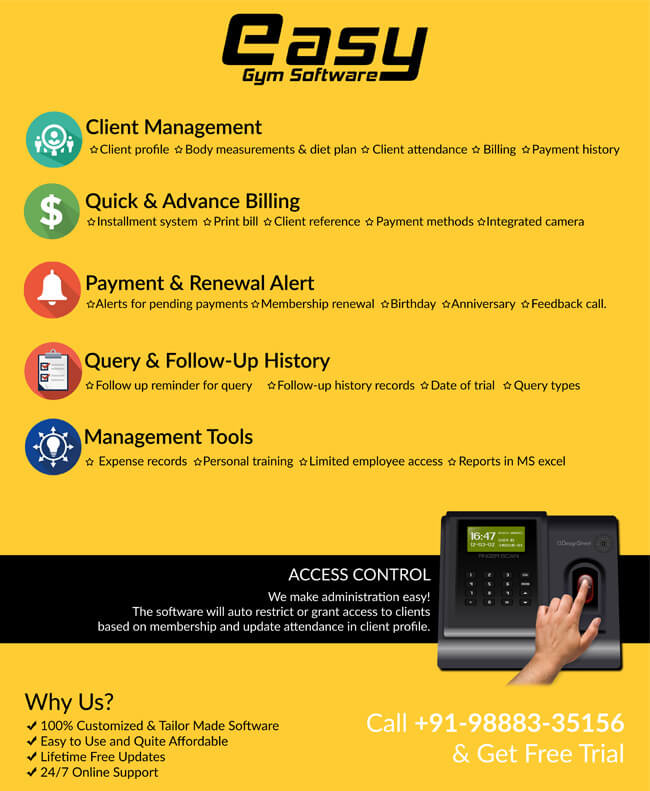 Our web-based gym & fitness studio software is easy to try, buy, implement, and use. Named Easy Gym Software by customers for its simplicity and easiness to use the software. All-in-one billing and client management software solution to run your entire business of gym or fitness studio.

13DesignStreet's Easy Gym Software will boost up your gym sales when you follow your inquiries/leads/walk-ins on time and follow up your existing clients on time for pending payments and renewals.

Why choose Easy Gym Software?
Easy to learn - We have the in-house training team that will help you and your team learning software via screen sharing apps online. Also, we have a lot of videos online.
Easy to use - Software is very quick and fast. You can use it and generate bills on few clicks.
Flexible - Handles any combination of discounts, taxes, returns, credits and sale specials in one easy transaction.
Automatic - Delete and sync users and attendance from biometric device.
Multi-branches - With Centralized Sever based Database which is able to give a glance how each branch, as well as your company as a whole, is doing.