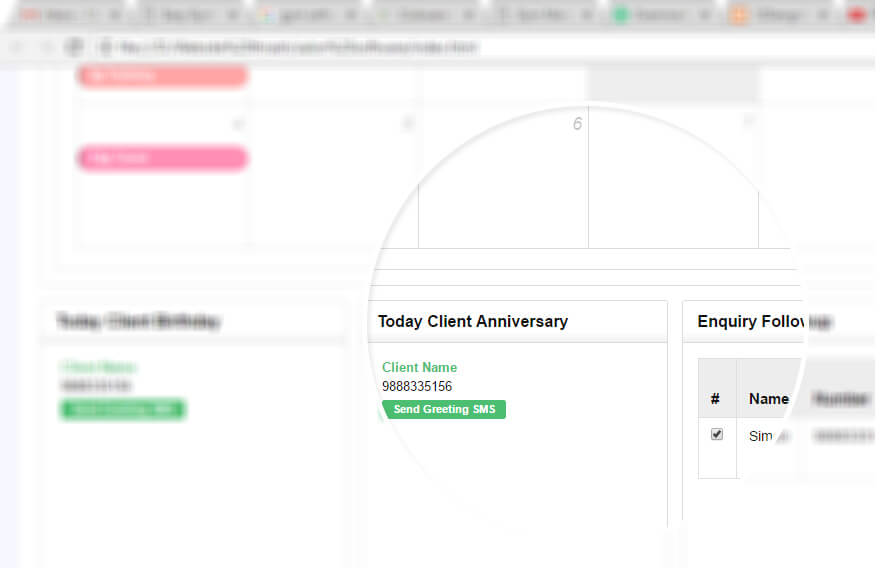 INQUIRY FOLLOW-UP
Now never miss follow-up to walk in/ inquiry in your salon or spa. In fact, timely follow-up can boost up your sales and better client relations. You can send SMS to your inquiries about new offers and discounts on just one click.
SPECIAL DAY ALERTS
Pamper your client with birthday or marriage anniversary wishes and you can gift them some free services or offer some good discount. Such small gestures can help you maintain better client relations.
APPOINTMENT BOOKING
Enhance your client experience, now allow them to book the appointment from your salon personalized mobile app or website. Also, your staff can book client appointment through our software on few clicks.

You get appointment calendar where you will see all appointments on one calendar and this helps you to schedule your day in easy and more organized manner.

When the new appointment is created your client will receive automatic SMS for confirmation of booking. And also a reminder SMS will be sent just 30 min. before appointment along with direction to your salon.
MANGE SERVICES & TEAM
Our software solutions are 100% dynamic. You don't need to call us to add new things. You will have full freedom to add / edit / manage services, beauty, and other products, manage beauticians, coupons for discounts and offers, manage team & employees also you can add /edit / manage users of the software. We enable you to create unlimited users of the software.
CREATE PACKAGES
For the very first time in India, Easy Salon Software enables you to create packages in which you can give multiple services and give the discount on the total of those services. You can sell these packages to your clients and keep a check on every client which service is used and not used by a particular client. Packages play very important role in the promotion of your salon. Now create special packages for your client and boost up your sales today with Easy Salon & Spa Software.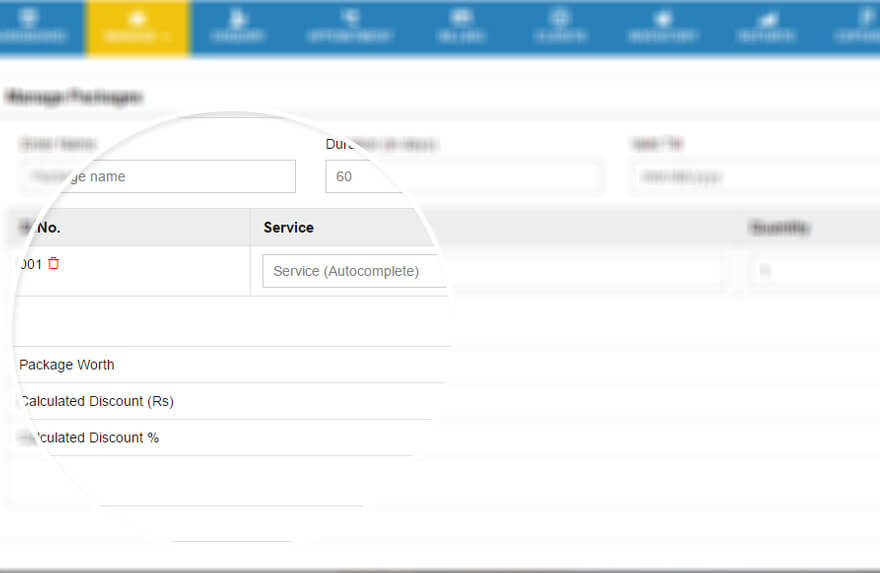 BILLING
Billing is an essential and primary process in our software. You can create bills/invoices easily in our salon software. You can create new bills and automated SMS is sent to you client for thanking greetings along with payment details. You can raise the invoice for packages, services, and products. When the new sale is made you can add beautician name in front of every service so as to calculate beautician commission. Lot more features in our simple and easy billing software.
INVENTORY MANAGEMENT
Our easy salon & spa software comes with powerful and fully automated inventory management that maintains in-stock and out stock history along with current stock status. Our software alerts you when products are low in stock so you never forget to maintain your stock.